HeightmapGeometry
A Heightmap extends Geometry to define a height mapped geometry for attached Entities.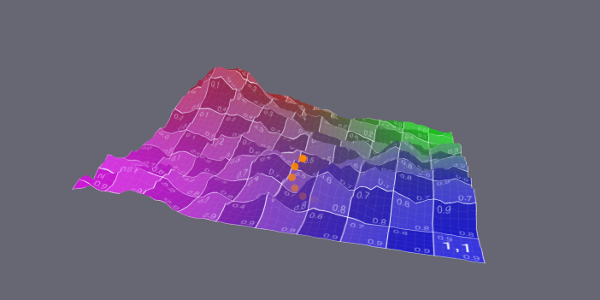 Overview
A HeightmapGeometry is a grid shape, to which the Y-axis is perpendicular.
The height of each vertex on the Y-axis is determined by the image file referenced by the HeightmapGeometry's src property.
Set the src property to a different image file at any time, to regenerate the HeightmapGeometry's mesh from the new image.
Also dynamically modify it's shape at any time by updating its center, xSize, ySize, zSize, xSegments, zSegments and Geometry/autoNormals:property properties.
Dynamically switch its primitive type between "points", "lines" and "triangles" at any time by updating its primitive property.
Leave its Geometry/autoNormals:property property true to make it automatically generate its vertex normal vectors.
Examples
Usage
new xeogl.Entity({
    geometry: new xeogl.HeightmapGeometry({
        primitive: "triangles",
        src: "textures/height/mountain.png",
        center: [0,0,0],
        xSize: 10,
        ySize: 5,
        zSize: 10,
        xSegments: 70,
        zSegments: 70,
        lod: 1.0, // Default
        autoNormals: true // Default
    }),
    material: new xeogl.PhongMaterial({
        diffuseMap: new xeogl.Texture({
            src: "textures/diffuse/uvGrid2.jpg"
        }),
        backfaces: true // So that we can see the faces from underneath
    })
});

Constructor
HeightmapGeometry
Parameters:
[scene] Scene

optional

[cfg]

optional

[id]

String

optional

Optional ID, unique among all components in the parent Scene, generated automatically when omitted.

[meta]

String:Object

optional

Optional map of user-defined metadata to attach to this Heightmap.

[primitive="triangles"]

String

optional

The primitive type. Accepted values are 'points', 'lines', 'line-loop', 'line-strip', 'triangles', 'triangle-strip' and 'triangle-fan'.

[src=undefined]

String

optional

Path to an image file to source this Heightmap from.

[image=undefined]

HTMLImageElement

optional

An HTML DOM Image object to source this Heightmap from.

[center]

Float32Array

optional

3D point indicating the center position of the BoxGeometry.

[xSize=1]

Number

optional

[ySize=0.25]

Number

optional

[zSize=1]

Number

optional

Dimension (height) on the Z-axis.

[xSegments=1]

Number

optional

Number of segments on the X-axis (width).

[zSegments=1]

Number

optional

Number of segments on the Z-axis (depth).

[autoNormals=true]

Boolean

optional

Automatically generate vertex normal vectors when true.

[lod=1] Level-of-detail, in range [0..1]

Number

optional