VectorTextGeometry
A VectorTextGeometry extends Geometry to define vector text geometry for attached Meshes.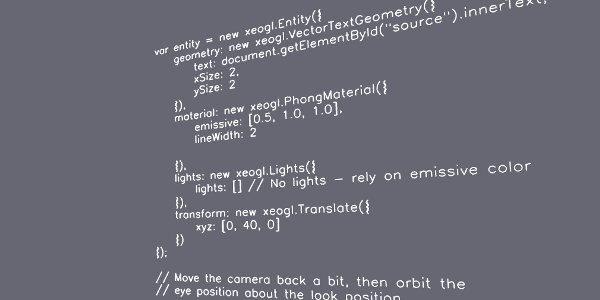 Overview
A VectorTextGeometry is a mesh of line segments in the X-Y plane that is generated from the value of its VectorTextGeometry/text:property property.
Text is monospaced and each character occupies a square cell.
Set its VectorTextGeometry/origin:property, VectorTextGeometry/size:property or VectorTextGeometry/text:property properties to new values at any time to dynamically regenerate it.
Example
new xeogl.Mesh({
    geometry: new xeogl.VectorTextGeometry({
        text: "Attack ships on fire off the Shoulder of Orion",
        origin: [0,0,0],
        size: 2 // Size of each square character cell
    }),
    material: new xeogl.PhongMaterial({
        emissive: [0.5, 1.0, 1.0],
        lineWidth: 2
    }),
    transform: new xeogl.Translate({
        xyz: [0, 40, 0]
    })
});
Constructor
VectorTextGeometry
Parameters:
[scene] Scene

optional

[cfg]

optional

[id]

String

optional

Optional ID, unique among all components in the parent Scene, generated automatically when omitted.

[meta]

String:Object

optional

Optional map of user-defined metadata to attach to this VectorTextGeometry.

[origin]

Float32Array

optional

3D point indicating the top left corner of the VectorTextGeometry.

[size=1]

Number

optional

[text=""]

String

optional